The Department for Transport (DfT) has launched a consultation to legally require operators to provide audible and visible information on local bus services.
An example of on-bus "next stop" display from Switzerland
DfT want to introduce regulations under the Bus Services Act 2017 that will require bus operators to provide audible and visible information on local bus services to help people identify:
the route and direction of services

each upcoming stop

points at which diversions start or end
This information is already available to all bus passengers in London and increasingly in other parts of the country. In Lancashire some services operated by the Blackburn Bus Company (Transdev) offer this system but in Lancaster only on parts of Stagecoach service 555 Lancaster - Keswick persons is the system in use and then only the "audible" part is available, leaving persons with hearing difficulties unserved. And what's worse, on many journeys the system appears to be switched off altogether and is of no help to anyone.
The Department intends to specify when this information must be made available and to what standard, leaving it up to operators to select equipment or process that works for them. We propose an approach which recognises the risks to smaller operators, marginal services and community transport.
The consultation document is available via this link and consultation closes on 16th September. The Bus Users' Group will be submitting a response and details of how to make an individual response are in the consultation document.
Second consultation on open data
The Department is consulting separately on requiring bus operators

and local authorities to publish open data digitally for buses in England (outside London). They want to make it easier for bus passengers to plan their journeys through access to routes and timetables data, fares and tickets data, and real time information.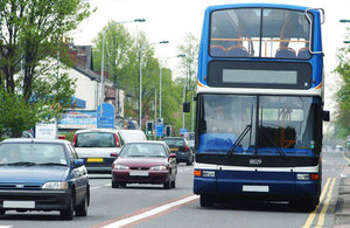 The BUG welcomes these proposals, especially in regard to fares, which far too many bus companies seem to regard as an official secret!
The DfT says that together the two initiatives will ensure that passengers have the information they need, when they need it, regardless of their location and the company running the service.
Buses minister Nusrat Ghani said: 'Nobody enjoys waiting at a bus stop for 20 minutes not knowing when the next bus is going to turn up, only for two to then pull up at the same time.'
'By requiring bus operators to share their data, we can make sure that passengers have the information they need to catch the bus with ease, equipped with the right information about the time and cost. 'This move will also open up opportunities for innovation within the industry, support local services where demand is falling and help increase bus usage across the country.'
The DfT added that requiring bus companies to share their data would pave the way for improved information across all modes of transport, meaning quicker, easier journeys for passengers travelling on more than one form of transport.
It said transport data is already widely shared within the rail industry and across modes in the biggest cities, with apps such as Trainline and Citymapper, helping passengers make informed choices about their method of travel.